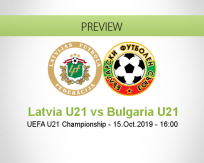 Europe - UEFA U21 Championship
Given the great balance of the squad, the possibility of a match with few goals is strong. On the one hand, the Bulgarian U21 national team has a squad with more alternatives, however, they play away, on the other, a Latvia who acts with all the affection of their fans, but has several flaws in the match model. Note that both teams usually score few goals during their matches. So, and given these factors, we believe this match will end with few goals on the final scoreboard.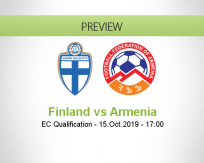 Europe - EC Qualification
Finland are fighting for a place within the qualifying zone, so acting in front of their fans it is of the utmost importance to get a good result. The visiting team should not have any slack in this match and will have to work hard within the four lines. We believe that Finland is a favorite for the game, as they are very strong on their terrain. Our bet will be on the victory of Finland until the final whistle of the referee.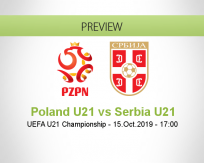 Europe - UEFA U21 Championship
Considering the analysis previously elaborated, the possibility of a game with some goals is strong. Even playing in unfamiliar terrain, Serbia U21 should dominate possession and have a better chance of opening the scoring as they have a squad packed with individual values. On the other hand, Poland U21 is aware of the skills of their opponent, and in this match should play only in the counterattack, transition in which they are very competent. Having said that and given all these factors, we believe that the '' Both teams score - Yes '' market is the most suitable for this game.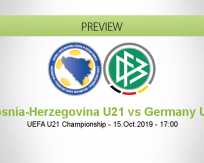 Europe - UEFA U21 Championship
This is a match between two teams that have very different tactical and technical squads, meaning Germany U21 has everything to achieve a good result in this match. Thus, the German team must completely master the ball possession and have the best chances to shoot the opponent, as they have very evolved athletes. On the other hand, Bosnia U21 has every interest in winning at least one draw, but has no weapons to achieve that goal. Thus, we admit that Germany U21 will be very strong in the first 45', making a bet in favor of their victory at the half-time is a good option.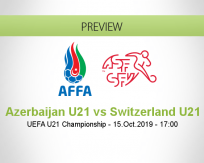 Europe - UEFA U21 Championship
Looking at the last matches of these teams it is possible to predict a very open match and with clear chances of real danger. Azerbaijan U21 is at home and have the big goal of getting at least one point; however, Switzerland U21 is going through a stage of confidence in attack and should create many chances to finish. We point out that all matches from both national teams in this competition ended with the winning market Over 2.5 Goals'. So, and given all the details of this analysis, betting for goals is a great option.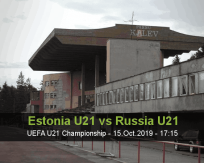 Europe - UEFA U21 Championship
Even playing away from home, Russia U21 should be on the pitch full of gas and their attacks are difficult to stop all over the house.
On the other hand, and despite the last triumph, Estonia U21 will try to defend organized and counterattack through the corridors, however, without much success.
We emphasize that Russia U21 has a much higher squad compared to the opponent of this journey.
Having said that, in view of these factors, we believe that betting for the Russian win by a few goals is of great value.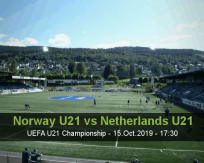 Europe - UEFA U21 Championship
The Netherlands U21 are a more organized team, they have a quality squad, and for this reason it is expected to dominate much of the match.
In addition, the Dutch live a moment of enormous confidence.
On the other hand, Norway U21 acts before its fans, however, a game model with various weaknesses.
So we hope the Netherlands U21 will be able to win all three points in this game.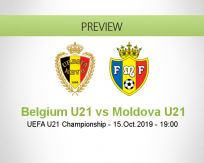 Europe - UEFA U21 Championship
Belgium is one of the most promising countries in all levels of European football, but they weren't yet able to show their value in this qualifying round. With just 1 point from 2 played matches, the Belgian team wants to get in strong, push high, still trying to score in the first 45'. On the other hand, Moldova U21 will play only on the counterattack, a transition in which they often create a lot of danger. So, we envision a very interesting first half, open and with several chances of goals, making to risk in favor of the market "Over 1.5 Goals in the 1st half" to be full of value.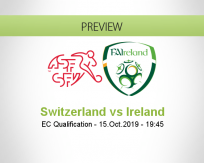 Europe - EC Qualification
The Swiss national team needs to add up points to be able to fight for a spot within the qualifying zone, so in this round they should go head on against their opponents. The visitors know that they will find a tricky game ahead of them, so they will have to be very alert throughout the duel. We see the home team as favorites and for that we will bet on the victory of Switzerland until the end of 90 minutes of play.
Europe - EC Qualification
The Gibraltar team is in the worst of their group and needs to recover, so they will have to show a higher quality football going forward. Georgia must make every effort on the pitch to win points away from home, as they will face a less qualified team. We look forward to a busy game with good chance for goals. We'll bet on more than 2.5 goals in the match.