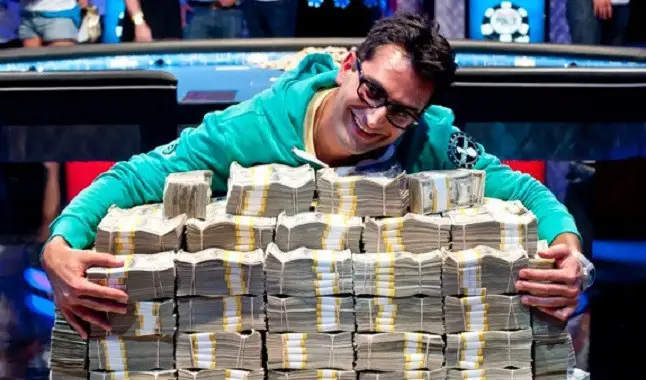 Known as "The Magician", today's poker star is the Iranian Antonio Esfandiari.
Born on December 8, 1978, in Tehran, Iran, Amir Esfandiari is a former professional magician and poker professional. The Iranian was known for devising several tricks in his career as a magician and accumulating more than $ 28 million in profits from poker.

However, Esfandiari's story begins in 1972. Although Antonio was born in Iran, when he turned nine the family ended up moving to California, in San Jose. At 19, Amir, at the time, chose to change his name to
Antonio
. The option to change his name was due to Amir thinking that Antonio sounded more mystical than Amir. All of this was due to his desire to be a magician at the time. At the same time, Antonio underwent plastic surgery on his nose, to look less awkward, according to him.
In his career as a professional magician, Antonio participated in a few rounds of poker around the city. In one of the participations, Esfandiari was invited to a game of Texas Hold'em, where he started to fall in love with the modality.
Despite his occupations, Antonio graduated from Del Mar High School in 1997. Soon after, he was arrested for being caught by the police selling narcotics.
However, his career as a professional poker player started to pay off in 2004, when the ace, known as "
The Magician
", won his first title on the
World Poker Tour at L.A Poker Classic
. At the event in question, Antonio received $ 1.4 million plus the bracelet from the series. Since then, Antonio's career has only expanded more and more.
One of the most notable achievements in his playing career came during the 2012 World Series of Poker, where the player was present at the $ 1,000,000 Big One for One Drop No Limit Hold'em event. In the millionaire event, Antonio managed to accomplish the feat of shelving the amount of
US $ 18,346,673
. Currently, in profits, Antonio holds the $ 28.1 million margin only in his career as a professional poker player.
He now plays at the biggest online poker house in the world, PokerStars!
Discover the best sports bookmakers online!