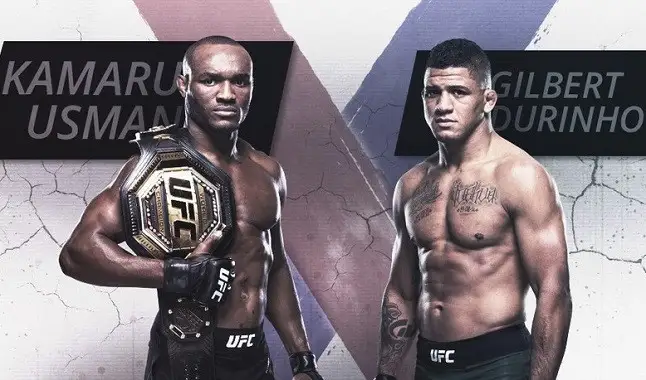 Find out everything about the fight between Kamaru Usman and Gilbert Burns, at UFC 258.
This weekend, on Saturday (13), MMA fans will have another big event ahead of them, and here you can find everything about the fight between Kamaru Usman and Gilbert Burns, at UFC 258. The stage for this big event will be the UFC APEX, in Las Vegas, in the United States.
That main match will be for the welterweight belt. In addition, the main card will feature 4 more fights, apart from the preliminary card fights.
Kamaru Usman vs Gilbert Burns - Welterweight
Kamaru Usman is a Nigerian-American fighter and is 33 years old, born in Auchi, Nigeria. Current UFC Welterweight Champion, Usman is number 5 in the pound-for-pound ranking.
The fighter started professionally in MMA in 2012 and has 18 matches on his record. Of these 18 matches, he emerged victorious on 17 occasions, having suffered only one defeat. There were 9 victories by decision of the judges, 7 by knockout and one by submission. His only defeat was by submission.
Usman went through events like RFA, CFA, VFC and Legacy FC. In addition, he participated in the reality show The Ultimate Fighter: American Top Team vs Blackzilians. In TUF 2, he was the winner of the welterweight belt when he beat Hayder Hassan in the final fight, taking the Performance award of the event.
His debut in the UFC, on the other hand, took place in December 2015, at "UFC on Fox: dos Anjos vs Cerrone 2". On this occasion, he beat Leon Edwards by unanimous decision.
Subsequently, between the years 2015 and 2018 he managed to embark on the great sequence of 8 consecutive triumphs, overcoming names like Sean Strickland, Warlley Alves, Sérgio Moraes, Demian Maia and Rafael dos Anjos.
With that, he won the chance to fight for the welterweight belt in March 2019, against Tyron Woodley, at UFC 235. Usman won the fight by unanimous decision.
Still in 2019, the fighter defended the belt against Colby Covington, having triumphed with a technical knockout at UFC 245, remaining with the title.
His most recent match took place in July 2020, when in the opportunity Usman defeated Jorge Masvidal by unanimous decision.
Aiming to remain among the greats of his category and keep the belt, Kamaru should enter focused on the octagon in search of another victory.
Gilbert Burns is a 34-year-old Brazilian fighter, born in Niterói, Rio de Janeiro. He is currently number 2 in the ranking of his category, UFC welterweight.
The fighter started professionally in MMA in 2012 and has 22 fights on his record. So far there have been 19 triumphs and 3 defeats. Of the victories, there were 8 by submission, 6 by knockout and 5 by decision of the judges. His defeats were 2 by decision and the other by knockout.
Before reaching the UFC octagon, Gilbert Burns went through events like the Crown Fighting Championships, Ichigeki Fight Show, Watchout Combat Show, among others.
Burns debuted in the UFC in July 2014, beating Andreas Stahl by UFC on Fox: Lawler vs. Brown.
In October and November of the same year, he added two more triumphs, against Christos Giagos and Alex Oliveira, the latter, also a Brazilian.
His first loss in the UFC occurred in November 2015, to Rashid Magomedov. After that, he sought recovery and beat Lukasz Sajewski in 2016, until losing to Brazilian Michel Prazeres in September of the same year.
From his last 9 fights, Gilbert Burns emerged victorious from 8 of them, and arrives for this fight with great confidence. In his last two matches, he beat the American Tyron Woodley by decision of the judges, and the Brazilian Demian Maia by technical knockout, in March 2020.
Burns will now go all out in search of the belt, but aware that it will not be an easy fight for either.
Betting at UFC
Like many UFC events, this one promises a lot of emotions, after all, it is worth the welterweight belt. Even with two very talented fighters and going through similar moments in their careers, Kamaru Usman is the favorite, and at Bet365 it is possible to find an odd worth @ 1.40 for his triumph.
For those who like to bet on the "zebra", Bet365 also has a great odd worth @ 3.0 for the Brazilian's victory.
This is everything about the fight between Kamaru Usman and Gilbert Burns, a big event for this Saturday (13th).