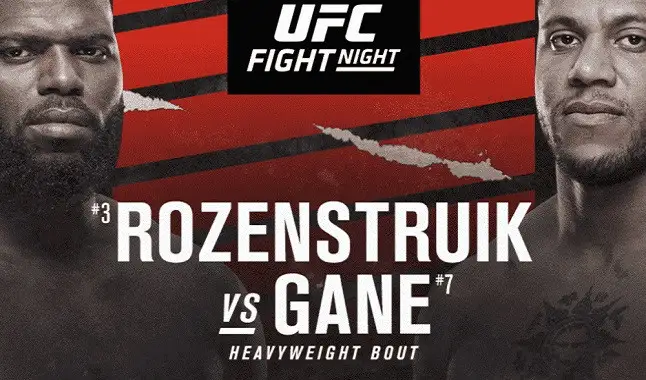 Another great event in the world of fights; check out everything about the fight between Jairzinho Rozenstruik and Ciryl Gane for the UFC.
This Saturday (27), there will be another great event valid for the UFC and here you will find everything about the fight between Jairzinho Rozenstruik and Ciryl Gane, the main fight of the night. The stage of the event will be UFC APEX, in Las Vegas, in the United States.

The fight is valid for heavyweights, there will be six fights on the main card and a few more on the preliminary card. That way, MMA lovers will not lack emotion.
The main match, with
Jairzinho
and
Gane
, promises great emotions from start to finish, with two talented fighters in search of a single goal, victory. Both fighters are among the top seven in the
Ultimate Fighting Championship heavyweight category
.
Jairzinho Rozenstruik and Ciryl Gane - Heavyweight
Jairzinho Rozenstruik
is a fighter from Suriname who is 32 years old. Having started his professional career in MMA in 2012, Jairzinho has 12 fights in his cartel, having won 11 of them and having been defeated once.

Bigi Boy
's main base, as he is called, comes from Kickboxing, where he competed professionally from 2009 to 2017, adding 76 wins, 8 losses and a draw.
In his MMA record alone, the fighter has 10 triumph wins by knockout and one by judges' decision. Bigi Boy's only defeat happened at UFC 249, in May last year, when he was beaten by Francis Ngannou by technical knockout, which took away the fighter's invincibility in MMA.
Rozenstruik
debuted in the UFC only in February 2019, defeating the Brazilian Junior Albini by technical knockout. Before that, he went through events like Draka, AIF, Fighting With The Stars, Rizin and Team Yvel.
From 2019 to 2020, he stacked 5 triumphs and one defeat at
Dana White
's UFC. His most recent fight took place in August 2020, when he beat Júnior dos Santos, the Cigano, by technical knockout at UFC 252.
Thus, aiming to gain even more respect and space within the
UFC
, the number 3 of the heavyweight ranking goes in search of another triumph.
Ciryl Gane
is a French fighter who is 30 years old and is currently number 7 in the UFC heavyweight ranking. He started his professional career in MMA only in 2018.
So far, Gane has a cartel to envy, with only 7 matches fought, he won them all. Of their triumphs, 3 were by knockout, 3 by submission and one by decision of the judges.
On his UFC debut,
Bon Gamin
, as he is called, beat the Brazilian Raphael Pessoa by submission in the first round, in August 2019.
In his only match played in 2019, Ciryl beat the also the Brazilian
Junior Cigano
, by technical knockout.
In addition to having a great record so far, he is a very skilled fighter who uses several techniques to win his fights. Now, aiming to improve his position in the heavyweight ranking and seeking even greater consolidation within the organization, he will do everything to make it harder and try to beat another opponent.
UFC Betting
After getting to know everything about the fight between
Jairzinho Rozenstruik
and
Ciryl Gane
, check here the final prognosis of the fight.
This fight promises to be one of the greatest in the UFC, with two very talented fighters and incredible cartels, making it even harder to choose sides. However, Gane is the favorite and at Bet365 it is possible to find the odd amounting to @ 1.36 for his triumph.
For those who wish to bet on
Jairzinho
,
Bet365
has the odd value of @ 3.25 in the event of a fighter's victory.
Bet on UFC fights through the best online bookmakers!